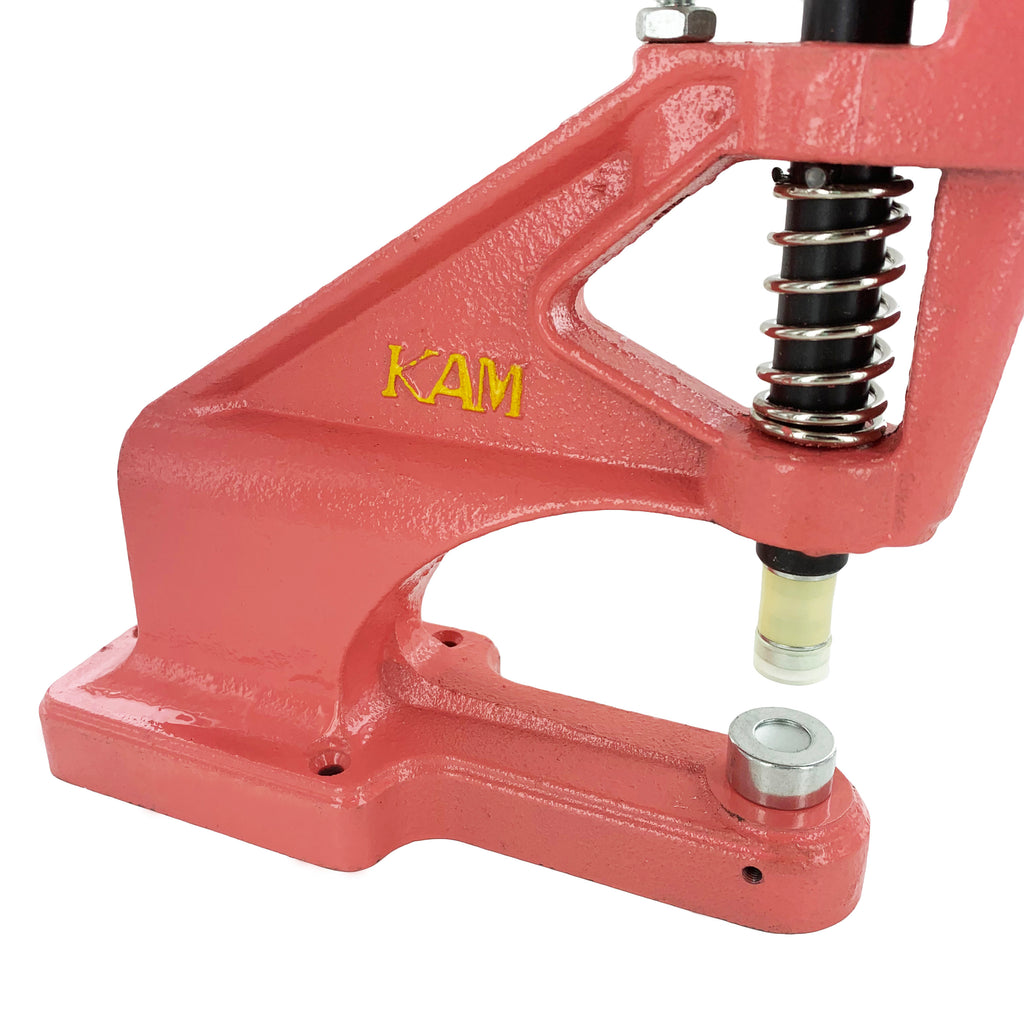 KAM® Snap Press
$64.95 $74.95
Professional KAM® Snap Press:
DK-93 KAM® Snap Press
(Optional) Add a 3 piece plastic snap die set or 2 piece grommet die set (die set prices reflect a ~$5 discount).
If no dies are selected, the press

will not function

.
(Optional) Add an Awl.
KAM® Snap presses usher in a new era of plastic snap and metal grommet setting.  Presses allow greater speed, efficiency, and ease of use.  If setting plastic snaps with hand pliers has become arduous, presses are a great alternative.
Separate dies are necessary for each snap part and each snap size.  Cap, socket, and stud dies compose a complete three piece plastic snap set.  The cap die sits in the base of the press.  Socket and stud dies alternate into the top of the press.  Dies from plastic snap pliers and different press styles are not compatible with this press style.  One discounted die set is available with each press purchase. 
Size 14, 16, and 20 die sets now include the extended lip socket and stud dies from KAM®!  These dies work with both standard and clear KAM® Snaps (older KAM® dies work poorly with clear KAM® Snaps).
(Disclaimer) While KAM® Snap presses are available in pretty colors for the home, they are industrial equipment.  Presses will have scratches, chipped/flaked paint, nicks, dust, rust, and other cosmetic imperfections that will not hinder their function.  Presses and dies arrive pre-oiled and should be wiped down before first use.  Remove any remaining oil on each die by attaching several snaps to scrap fabric.  Presses and dies will not be refunded, replaced, nor exchanged unless a defect affects their function.

(Disclaimer) Shipping is currently limited to the United States (US orders $45+ ship free using coupon: FREESHIP).  Most presses ship in flat rate boxes.  Flat rate boxes offer limited room for protective packaging and the box may have external damage upon receipt.  Rest assured that these presses are indeed quite industrial and package contents are assured against damage.
You can do it! See how easy it is with one of our step by step tutorials: